With the bass tournament season starting soon I've been doing a fair bit of reading and thinking about tournament strategies. While I'm certainly no expert and I have much to learn, it's been pretty obvious that I've done a lot better in tournaments where I've been able to have plans in place prior to their start. The one disadvantage that I have in most of the tournaments I've been in is that I generally have the slowest boat in the field. With kids and a mortgage and life it is unlikely that I'll be buying a faster rig anytime soon so I have to put strategies in play to overcome this. On some of the smaller lakes we fish the known hot spots will fill up long before I can get there. This requires that my pre-fishing trips are used to find multiple spots to target. In essence, I can't just have a plan A as I'll likely never be the first one (or second or third or..) to a prime spot. Thus, I'll generally need plans B, C, D, E and so forth. The more the better.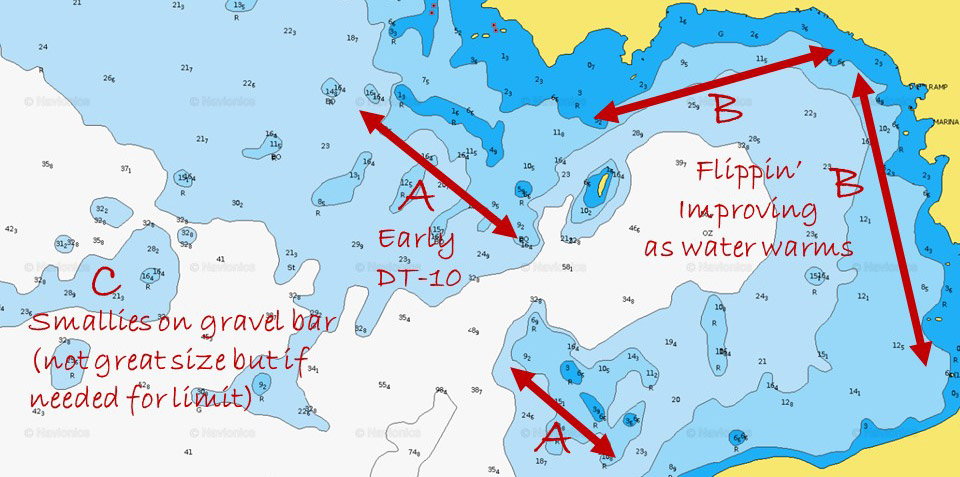 Last fall I pre-fished a lake for a bass tournament and was able to find and mark and extremely good spot (a string of submerged rocks) as well as an ok but tougher to fish area (a shallow shoreline holding spread out individual fish). The water in the lake at this time of the year had dropped 10-12 feet below normal. This meant that any historically known spots were likely above water at this time and basically made the lake an entirely new bit of water to fish. I knew that I would need to find a couple extra areas to be competitive but could not pinpoint anything further.
Come tournament day, as we drove up to spot A there were nine boats vying for position around said submerged rocks with the eventual tournament winner, who had prime position on the spot (and the fastest boat in the field), beating the field by almost 4 lbs. We moved on to spot B which we pretty much had to ourselves and managed to scrape together a few fish but not enough to move out of the middle of the pack. My feeling is that if we'd have had one or two extra spots in play we would have had a shot at finishing close to the money as fishing conditions were quite tough that day. Quite a number of boats blanked (caught no fish). An extra day pre-fishing may have been the ticket here – but one only has so much free time…
Come tournament day, as we drove up to spot A there were nine boats vying for position around said submerged rocks..
One has to think of pre-fishing as a day to try as many possible spots and techniques as feasible, not as just a day to go out and throw your favorite lure at a spot you've fished many times before. Well known spots will fill up fast come tournament day and fish will quickly become accustomed to common presentations. I feel that finding new and unique areas and techniques to use is one of the more fun aspects of fishing and the feeling of accomplishment you get when you've done well using spots you've found yourself is well earned.
There will be some days when everyone is using the same technique and everyone is catching fish in all the likely areas. But for those days when fishing is tough and you can bag a limit when no one else is because backup plan D is paying off – well that's a good day!