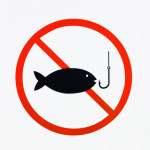 I have been humbled. I considered myself a pretty good angler and have had some good success over the years. However, it appears I have a lot left to learn. Over the past weekend I participated in my first professional walleye tournament – the Sagamok Fall Walleye Classic on the Spanish River – part of the Northern Ontario Walleye Trail (NOWT). My partner and I finished tied for dead last with a two-day combined weight of 0.0 lbs. That's right, blank-blank. Definitely not how I envisioned how this would go.
First off, the tournament itself was extremely well run with lots of friendly people and a superb set of volunteers. A prize package of $35000 is available – $10K for 1st place, $5K for 2nd down to $500 for 10th place prizes. First, second and third big fish for each day is $1000, $750 and $500, respectively. For our accommodations, we were guests of Cal and Deb Matheson at Blue Heron Resort on the Spanish river. Blue Heron has boat launch and docking facilities with gas, bait and fishing licenses available. The cabins are fully equipped, clean and spacious and are some of the nicest fishing resort style cabins I've stayed in. Cal and Deb's hospitality was fantastic, they even hosted a dinner our first night for the tournament anglers staying there. They also hosted a good sized poker tournament all three nights we were there.
As for our performance in the tournament, a variety of lessons to be learned include:
1) My electronics and trolling motor are archaic compared to what is available today. I was particularly in awe of the GPS guided Minn-Kota i-Pilot system. I watched in envy as boats in heavy current and 30 km/h winds held positions like they were anchored in four directions. Likewise the various Lowrance and Humminbird top end sonar/GPS systems are unbelievably good at pinpointing structure and fish. I will not likely do another tournament until I have upgraded both.
2) Speed is king in tournament fishing. Massive boats passing us at blazing speeds was not only slightly unnerving it made it impossible to get on the limited number of premium fishing spots available. Most of the spots we had scouted were already packed with boats when we arrived leaving us to fish the much less productive periphery. Speed also allows for a better fishing/travelling time ratio i.e. more time with bait in the water.
3) The more pre-tournament fishing you can get in the better. We had a good conversation with one of the pro-anglers about what he does. During the winter months he works at a bait and tackle shop and then does 12-13 touraments during the season – all of the ones on the NWOT and five or six in the United States. When one tournament is completed he gets to the next destination and fishes the tournament waters as much as possible. He had fished the river for five solid days prior to this tournament – we had done about six hours pre-tournament and I had a short day of exploration in the summer. Not even close to enough considering what the pros are doing. You also have to consider that there are a significant number of local anglers in the tournament who have fished this river for years.
4) I have some work to do refining my techniques – particularly bottom bouncing, a technique I've just recently started using. I don't think there was any secret technique that was in use (at least not that I saw) that accounted for huge numbers of fish. Most anglers were jigging with minnows or worms, bottom bouncing with a worm harness or floating jigs and one or two teams were trolling body baits. I didn't see anyone casting body baits, spinners or anything unusual. Certainly colour choice of jighead and worm harness will play a role here as will blade style. Again, this is something new for me and will require some time on the water before I'm confident in my choices. A longer tournament pre-fish will also be extremely useful in dialing in bait and lure choices.
5) Tournament fishing requires a tough mind and body. There are long days involved. On day one, boat inspection began at 6 am with the tournament start at 8 am. A two hour fog delay moved everything forward to a 10 am start and a 6 pm finish. Weigh in and boat removal went on until 8 o'clock – that's a 14 hour work day! Day two was better with final weigh in starting at 3 pm and dinner and awards starting at 5 o'clock. This is also serious business to these guys and not your typical fun day on the water. These guys go hard and do not waste a second. It rained extremely hard for three or four hours on day two and no one even thought of stopping or taking shelter – there is a lot on the line for these guys. I must say it is somewhat stressful – there is pressure to perform of you have any sort of a competitive streak within you. I certainly had some trouble sleeping the night before the starting day. The next night was not a problem as I was physically and mentally exhausted.
6) I was very impressed with the choreography between the pro team partners – each partner knew what needed to be done when stopping at and or leaving a spot or when a change in tactics was needed. They also went into the tournament with a well devised plan – and likely a number of backup plans. We struggled with this especially when we could not get on the spots we had planned to fish.
Even with our poor finish I think I will try tournament fishing again. I do think I have a lot to learn yet – but then again, that's really the point of this for me.